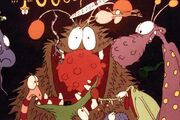 Pépère et Mémère (known as Grand'Pa and Grand'Ma or Les AssAssins)
is a French short film animation made in 1987 and the short film was directed by Federico Vitali (Creator of Lava Lava and Guano).
Plot
Grandpa and Grandma are eating their soup unaware of the horrible crimes there being committed by creatures outside the window.
Availability
The full Short film has never been viewed online but However the short film is also available on DVD in Japan Here (along with Le Miracle égyptie).
See Also
*Le Miracle égyptien (Another lost short film directed by Federico Vital)
Ad blocker interference detected!
Wikia is a free-to-use site that makes money from advertising. We have a modified experience for viewers using ad blockers

Wikia is not accessible if you've made further modifications. Remove the custom ad blocker rule(s) and the page will load as expected.