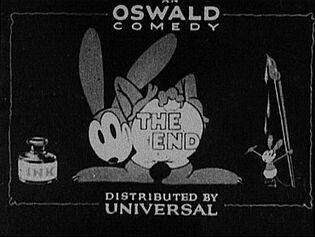 Long before Disney was animating a wacky mouse, he was experimenting with various types of animation, as the medium was still new at the time. With his failed Laugh-O-Grams, Lafflets, and the slightly popular Alice Comedies Shorts, Disney needed something that would really catapult him into getting his career started. He decided to focus on competing with strong cartoon characters such as Felix The Cat and Koko The Clown. He came up with a character named Oswald The Lucky Rabbit. Impressed with the idea, Winkler Pictures (Disney did not have his own animation studio at the time) gave the project a green light and gave Walt a budget and a talented animation staff.
Walt began production on the shorts in 1927. The rabbit enjoyed a modest success and became the first Disney character to have his own tie-in merchandise. What Oswald held above his competition was more ambition and raunchy, sometimes sexual, humor. Walt grew more and more creative with each short he made. Around 26 shorts in, he decided to try to talk his producer, Charles Mintz, into a budget increase and a higher staff count. Despite the rabbit's success, Mintz not only declined the budget increase, but cut the budget by more than half and threw nearly half of Walt's animation team into other projects.
Disney responded to this by quitting his deal with Winkler, stealing some of his most talented Oswald staff, and starting his own animation studio. He lost the rights to Oswald, but created an Oswald rip-off character named Mickey Mouse. He never again allowed someone else to own the rights of any of his characters or works.
Oswald floundered onward, progressively fading into obscurity. His future shorts were animated by many then up-and-coming animation legends, such as a young Tex Avery. Oswald evolved into the color and sound eras, gaining a voice and different color scheme. The character was discontinued in 1943 due to his fall in popularity.
In 2005, Oswald's copyright finally expired and Universal (the umbrella company that Winkler was under) gave Disney all the shorts back, with exception of the non-Disney produced ones. A DVD collection was released in 2007 containing 13 of the original 26 shorts. Two more emerged in 2008, another in 2011 and one in December 2014 but 9 of the shorts are still missing. Also missing are some of the later-era shorts, including a couple that were animated by Avery. With Oswald's role in the video game, Epic Mickey and its two sequels, new interest has sparked in the character.
List of found Disney Oswald shorts
Trolley Troubles (on DVD)
Oh Teacher (on DVD)
The Mechanical Cow (on DVD)
Great Guns! (on DVD)
All Wet (on DVD)
Empty Socks (nearly complete)
Africa Before Dark (screened at the Bonn Silent Film Festival)
Rival Romeos (on DVD)
Bright Lights (on DVD)
Ozzie of the Mounted (nearly complete)
Hungry Hobos (went for auction)
Oh, What a Knight (on DVD)
The Fox Chase (on DVD)
Tall Timber
Poor Papa (went for auction/screened at a 1987 animation retrospective)
Sleigh Bells
Total amount: 16/26.
List of lost Disney Oswald shorts
The Banker's Daughter (some sketches survive)
Rickety Gin
Harem Scarem (some sketches survive)
Neck 'n' Neck
The Ol' Swimmin' Hole
Sagebrush Sadie (a pencil test fragment survives)
Ride 'Em Plowboy! (storyboard page survives)
Hot Dog (storyboard page survives)
Ad blocker interference detected!
Wikia is a free-to-use site that makes money from advertising. We have a modified experience for viewers using ad blockers

Wikia is not accessible if you've made further modifications. Remove the custom ad blocker rule(s) and the page will load as expected.