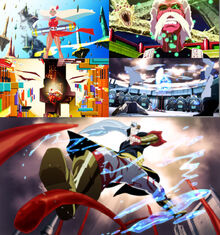 In 2010, Studio 4°C announced that Yasuhiro Aoki's 150-second animated adaptation of Masamune Shirow's Orion would premiere at the Short Shorts Film Festival in Tokyo[1]. Five screenshots of the short film were released for promotional purposes. However, since it did not win any awards, no further media or information has been released. Studio 4°C's website does not even mention it, and it is not featured among their released material.
References
Ad blocker interference detected!
Wikia is a free-to-use site that makes money from advertising. We have a modified experience for viewers using ad blockers

Wikia is not accessible if you've made further modifications. Remove the custom ad blocker rule(s) and the page will load as expected.