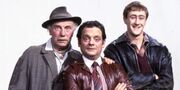 Only Fools and Horses
is a British sitcom created and written by John Sullivan, featuring David Jason as Derek "Del Boy" Trotter, Nicholas Lyndhursts as his younger brother Rodney and Lennard Pearce as their Grandad. Pearce died in 1984, and his character was replaced by Uncle Albert, played by Buster Merryfield. It was voted Britain's Best Sitcom in a 2004 BBC poll.
Pearce was 66 when he started acting on Only Fools and Horses, and was diagnosed with critical hypertension. He played Grandad from the first serie to the third. Production for the fourth serie started in 1984. The first episode to be shot was called "Hole in One". Pearce had already shot some of the scenes when, on 12 December, he suffered a heart attack. He was hospitalized and recovered a little; during this time he was visited by director John Sullivan, which assured him that he would reprise his role as Grandad once he got out. Unfortunately, three days later, 15 December 1984, he suffered a second heart attack and passed away. Sullivan, Jason and Lyndhursts were, reportedly, devastated by the news.
Sullivan wrote two new episodes, "Happy Returns" and "Strained Relations", in which Grandad passed away and his charachter was replaced by Uncle Albert. "Hole in One" was eventually recycled as the third episode of the serie and as such aired on 7 March 1985. All the scenes shot by Pearce were re-shot with Merryfield's charachter instead. The original footage has never been transmitted and is not commercially available. Curiosly, the charachter replacement created some plot holes which are not adequately explained in the episode.
Ad blocker interference detected!
Wikia is a free-to-use site that makes money from advertising. We have a modified experience for viewers using ad blockers

Wikia is not accessible if you've made further modifications. Remove the custom ad blocker rule(s) and the page will load as expected.