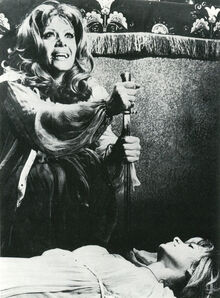 Nobody Ordered Love
is a 1972 British horror film directed by Robert Hartford-Davis, starring Ingrid Pitt, Judy Huxtable, and Tony Selby. The plot deals with a series of tragedies that unfold during the filming of a low-budget First World War film entitled
The Somme
.
Hartford-Davis, one of the most prolific directors in British exploitation cinema, likely intended the film to be an exposé of the workings of the genre, with many elements thereof playing a role of some kind in the film's plot and the cast consisting largely of genre veterans. Unfortunately, the resulting film was given very little promotion by the studio and ultimately panned by critics, many of them criticizing Hartford-Davis' direction. According to Ingrid Pitt, the resulting fall-out caused the director to take Nobody Ordered Love out of circulation and relocate to the USA, taking all prints of the film with him. Pitt then claims that Hartford-Davis ordered in his will the destruction of the prints upon his death in 1977.
In the following years, Nobody Ordered Love was listed by the British Film Institute as one of their 75 Most Wanted features. Around 2012, a copy of the film's script was given to the BFI by an anonymous collector. The screenplay unusually included the scripts for both the film itself and the fictional film whose production it depicts. However, if Ingrid Pitt's claim is correct, it is very likely that the film is totally lost save for several black-and-white stills and the aforementioned screenplay.
Ad blocker interference detected!
Wikia is a free-to-use site that makes money from advertising. We have a modified experience for viewers using ad blockers

Wikia is not accessible if you've made further modifications. Remove the custom ad blocker rule(s) and the page will load as expected.