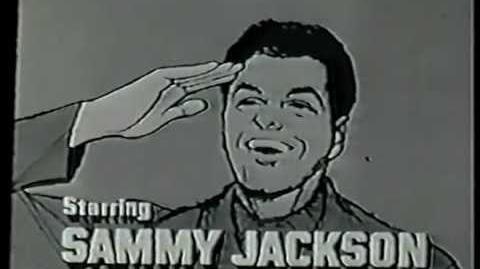 In 1964, for the first time since the 1955 United States Steel Hour teleplay, Mac Hyman's 1954 novel No Time for Sergeants was adapted for TV again, this time into a full-fledged series on ABC. Upon reading that Warner Bros. was going to do this, Sammy Jackson (who had a single line in the 1958 movie) wrote to the studio, saying that he was the best choice for the role of recently-drafted bumpkin Will Stockdale, and that they should watch a specific episode of Maverick for proof. He then won the role, and displayed his limitless common sense (something Jim Nabors' character on CBS' Gomer Pyle, U.S.M.C. lacked) throughout the series. However, it was killed in the ratings by CBS' Andy Griffith Show (coincidentally, Griffith starred in the Steel Hour teleplay and film versions), and was soon axed. The series was shown in the UK on ITV from 1965 until 1969, but prints have rarely circulated.
Ad blocker interference detected!
Wikia is a free-to-use site that makes money from advertising. We have a modified experience for viewers using ad blockers

Wikia is not accessible if you've made further modifications. Remove the custom ad blocker rule(s) and the page will load as expected.