On September 30th 2009, An unknown user recorded and uploaded a video of a technical difficulty that happened during Nick@Nite which ACTUALLY resulted in the logos changing on the Nick networks. Recently, a user reenacted the accident to show what it looked like. Sadly, the original video will likely never see the light of day again....
Note: This also went for the same fate that the N, Noggin, and Nicktoons Network had. However, a remake version was made from The N changing to Teennick. Within the use,a lot of remakes are seen but they are using faked u version within using GoAnimate and Xtranormal videos. Sadly, no proof does exist the real version of it.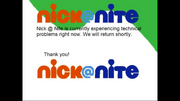 9/14/16 Update: The original uploader has uploaded the original video. Here's a link: https://www.youtube.com/watch?v=08xTZOBcENQ
Ad blocker interference detected!
Wikia is a free-to-use site that makes money from advertising. We have a modified experience for viewers using ad blockers

Wikia is not accessible if you've made further modifications. Remove the custom ad blocker rule(s) and the page will load as expected.