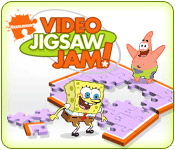 Nick Video Jigsaw Jam! is a puzzle game from Nick Arcade. It was released on August 31, 2006, but now it dropped in early 2007.
Synopsis
Everyone's playing Nick Video Jigsaw Jam! You can download & solve video puzzles from your favorite Nickelodeon shows!
Gameplay
The game is a puzzle game, and the main objective of the game is to correct the puzzle pieces and you see a video of each Nick show.
Shows
Spongebob Squarepants
Blues Clues
Dora The Explorer
Fairy oddparents
Lazytown (Maybe)
the adventures of jimmy neutron boy genius
And Maybe More we Dont know
Gallery
Ad blocker interference detected!
Wikia is a free-to-use site that makes money from advertising. We have a modified experience for viewers using ad blockers

Wikia is not accessible if you've made further modifications. Remove the custom ad blocker rule(s) and the page will load as expected.