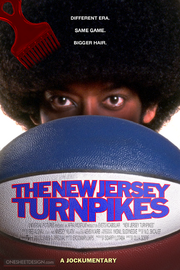 New Jersey Turnpikes 
is a 1999 mockumentary comedy film starring Kelsey Grammer, Tommy Chong and Orlando Jones.
[1]
 It was shot entirely in Toronto, Canada and directed by Bryan Buckley. The film centers on the fictional basketball team known as the New Jersey Turnpikes during the final days of the American Basketball Association. It features narration by Kelsey Grammer, who additionally plays the team's owner. "Kool Williams", played by Orlando Jones is the star player for the team, who are known to be the worst in the leauge
[2]
.
A rough cut underwent test screenings in 1998[3], and posters were designed[4], but the film was never released. The exact reasons are unclear, but one IMDb user who was an extra in the film claims that Grammer hated the final result and bought the rights so that it would never be released.[5] It has not been screened publicly in any form since 1998. 
References
Ad blocker interference detected!
Wikia is a free-to-use site that makes money from advertising. We have a modified experience for viewers using ad blockers

Wikia is not accessible if you've made further modifications. Remove the custom ad blocker rule(s) and the page will load as expected.