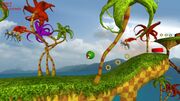 Needlemouse: The Emerald Hills was a planned 2D freeware platformer based on Sonic the Hedgehog.
The game was brought to attention when concept art for it was confused for SEGA's "Project Needlemouse" (later named Sonic 4). They later clarified the games were entirely different. In 2012, the game was said to be "on the backburner", and no information was revealed about the game since, leaving the game's status a mystery. 
Ad blocker interference detected!
Wikia is a free-to-use site that makes money from advertising. We have a modified experience for viewers using ad blockers

Wikia is not accessible if you've made further modifications. Remove the custom ad blocker rule(s) and the page will load as expected.