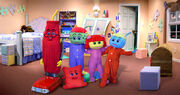 My Bedbugs
was a kids TV Program that ran from March 4,2002 to April 23 2006 on many TBN and PBS stations.
Information
This television program featured characters Gooby, Toofy and Woozy. It was created by husband and wife Alex Greene and Carol Sweeney in 2002. This Series became rare when the program was under new ownership. No Episodes of this show can be found online except for two quick clips on YouTube. The series was the inspiration for the film The Oogieloves in the Big Balloon Adventure. A few Screenshots of the characters exists online.
Sources
https://en.wikipedia.org/wiki/My_Bedbugs.
Updates
May 7, 2016: Another screenshot was found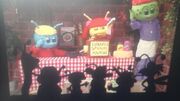 Ad blocker interference detected!
Wikia is a free-to-use site that makes money from advertising. We have a modified experience for viewers using ad blockers

Wikia is not accessible if you've made further modifications. Remove the custom ad blocker rule(s) and the page will load as expected.