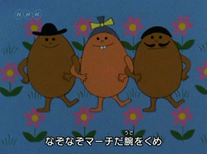 Minna no Uta (みんなのうた) is a 5-minute music television and radio series for NHK TV, Japan's national public broadcasting organization. It broadcasts few times a day between television programs, and each program plays one or two music videos. New music videos are released every two months, along with few rebroadcasted music videos.
Missing Videos
Approximately 500 out of 1300 music videos that debuted between 1961 and 1982 have been lost. The 2-inch videotapes that contained the music videos were very expensive and were reused for other NHK programs. On 2011, fifty years after the launch of Minna no Uta, an excavation project for rediscovering lost music videos was established. It accepts any medium with a recording of a music video originally broadcasted on NHK. Since the program started, over 90 music videos have been recovered. A portion of these music videos were rebroadcasted on a television special in March 2012.
External Links
Ad blocker interference detected!
Wikia is a free-to-use site that makes money from advertising. We have a modified experience for viewers using ad blockers

Wikia is not accessible if you've made further modifications. Remove the custom ad blocker rule(s) and the page will load as expected.