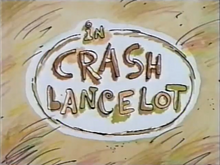 "Crash Lancelot" is the 7-minute pilot short for the Cartoon Network series Mike, Lu & Og. It premiered on November 6, 1998 and was originally part of The What a Cartoon! Show, before Mike, Lu & Og debuted its premiere episode on November 12, 1999.
While the Latin Spanish dub of the episode has been found and uploaded to YouTube and also mirrored onto ToonTube, the English dub has not resurfaced online in any form and it is unknown if the English dub will be leaked online.
Ad blocker interference detected!
Wikia is a free-to-use site that makes money from advertising. We have a modified experience for viewers using ad blockers

Wikia is not accessible if you've made further modifications. Remove the custom ad blocker rule(s) and the page will load as expected.