Mean Girls DS is a movie tie-in game made by 505 Games to the film Mean Girls that was released in Europe on September 11, 2009 and in the United States on April 20, 2010.
The game was noteworthy for not putting Lindsay Lohan's character on the cover despite her major role in the film, due to the game's E10+ rating and the actress' reputation at the time.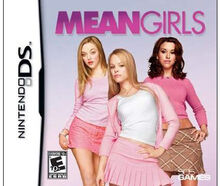 It appears that the game was a financial bomb and very few copies were printed; previously announced tie-in games such as the Pretty in Pink and Clueless games were either made PC-download-only or, in the case of the latter, canceled entirely.
Update (9/8/2015)
It appears that the game had a European release, however the US release was cancelled at last minute. There is proof that the game was sold at one point, due to a listing on thehunt.com.
Update (9/13/2015)
A site called multiplayer.it has a page on the game, saying it was released on December 1st 2010 (most likely a placeholder that was never changed given the April 20, 2010 release date listed above). It also has a screenshot of the game! You can see the screenshot to the right. It appears that the site also has other screenshots as well. It also has the game trailer.
Sources
https://www.thehunt.com/the-hunt/wcMvMF-mean-girls-ds-game
http://kotaku.com/5515461/mean-girls-game-capitalizes-on-films-popularity-lohans-career