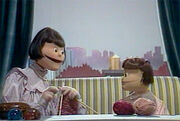 Marie-Charlotte was a puppet show series that originally aired on French TV channel TF1 in 1982 and was rescreened a few more times in the 1980s. The number of made episodes is unknown, but each one was roughly 3-minutes long.
It was a slice-of-life series, centered on a little girl, Marie-Charlotte, who would discover many facts of life with her parents.
The puppets were the creation of Jean Godement, a puppeteer whose many works were common sights on French TV in the 1970s and the early 1980s. Unfortunately, the vast majority of his shows have not resurfaced. Marie-Charlotte is one of the most obscure shows, and very few evidence of it subsists today, even on the Internet. Only a handful of screenshots are available, for instance, but the people who uploaded them have not made their original videos public.
References
http://www.planete-jeunesse.com/fiche-1232-marie-charlotte.html
http://greniertv.over-blog.com/article-le-village-dans-les-nuages-guide-des-episodes-86952306.html
Ad blocker interference detected!
Wikia is a free-to-use site that makes money from advertising. We have a modified experience for viewers using ad blockers

Wikia is not accessible if you've made further modifications. Remove the custom ad blocker rule(s) and the page will load as expected.