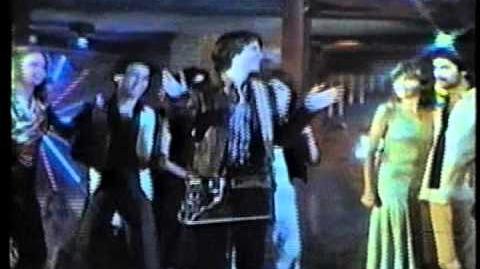 Makin' It is a 1979 disco sitcom created in part by Saturday Night Fever producer/Bee Gees manager Robert Stigwood and starring David Naughton, Greg Antonacci, Denise Miller, and Ellen Travolta, aired on ABC. The show is centered around the life of Billy Manucci, a Passaic, New Jersey man who at day was working at an ice cream parlor and at night was frequenting the local dance club. Unfortunately, the show debuted on February 1, 1979 - right in the middle of the disco backlash. As a result, it got canceled after eight weeks, and the show's theme song (sung by Naughton) hit #5 on the Billboard Hot 100 afterwards. Despite the show gaining infamy from appearing on TV Guide's "50 Worst TV Shows of All Time" list, actual video footage of the show remains hard to come across, with only three different uploads of the opening credits and the entirety of episode 6 (which one of the credits uploads stemmed from), "Something for Ma", available on YouTube.
Episodes
Bold text denotes found episode
1. Stayin' Alive (2/1/79)
2. The Art Auction (2/2/79)
3. Big Brother is Watching (2/9/79)
4. Fun, Fun, Fun: Part 1 (2/16/79)
5. Fun, Fun, Fun: Part 2 (2/23/79)
6. Something for Ma (3/2/79)
7. Little Orphan Fusco (3/9/79)
8. Tony's Homecoming (3/16/79)
9. Friends for Life (3/23/79)
10. UNAIRED EPISODE? (Production code 006 not listed on the episode guide on the Wikipedia page)
Ad blocker interference detected!
Wikia is a free-to-use site that makes money from advertising. We have a modified experience for viewers using ad blockers

Wikia is not accessible if you've made further modifications. Remove the custom ad blocker rule(s) and the page will load as expected.