Grocerybagdottv, also known as Mars Argo, where a musical group. they made videos that made fun of pop culture, ect. they broke up, and nearly all of there videos where privated/deleted. This is a comprehensive list of grocerybagdottv/Mars Argo videos that have not been recovered, or at the very least publicly reuploaded, since the mass privatization of their videos.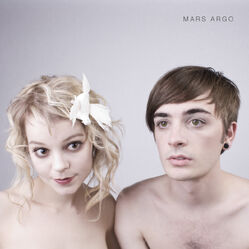 A Film. A Record.
Chef Boyardee Commercial
Digital Imperialists
Facebook
Memories Fade
Oujia
Soon.
Tucker Woodley Interviews Mars Argo
Vlogvetica
What I Want For Christmas
What's Your Name (Part 1)
What's Your Name (Part 3)
Vince Dynamic Makes Magic
Spooky Computer Show (Announced by Titanic Sinclair on Twitter, but there aren't any screenshots, it could possibly be Oujia).
Ad blocker interference detected!
Wikia is a free-to-use site that makes money from advertising. We have a modified experience for viewers using ad blockers

Wikia is not accessible if you've made further modifications. Remove the custom ad blocker rule(s) and the page will load as expected.