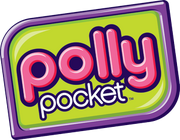 Polly Pocket is a Doll from Mattel, Released in 1989, in First Commercial in 1990 to Actually, Commercials is Exhibiting in All World, and Upload in YouTube, or Such Vimeo, Much This Commercials is Been Lost, Around in 27 Years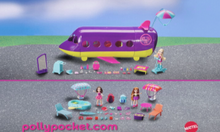 NOTABLE LOST COMMERCIALS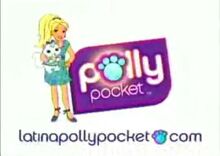 Polly Pocket Dare to Hair Commercial (Brazilian Portuguese Version - Only Audio Found and French Version Found) (US Version Found)
Polly Pocket Jewel Maker Commercial Spanish Version Found (US Version Lost)
Polly Pocket 2008 Era Latin America Version Commercials Lost (The Sparklin' Pets Dress Up Latin American Version is Found)
Polly Pocket 2006 Era Brazilian Portuguese Version Lost (Only the Pollywheels Commercial in Portuguese Brazilian Found)
Polly Pocket 2008 Era Rollin Coaster Resort Portuguese Brazilian Version Commercial Complete (Lalala Polly This Commercial is Incomplete)
Polly Pocket 2010 Era Brazilian Portuguese Dub Commercials (Only the Ice Cream Water Park Playset Brazil Found)
Polly Pocket 2015 Era (Airplane and Polly and Pockets Dolls, Sweet Park, Pets Party and Polly's House, Car and Pool Brazilian Portuguese Version Lost, Latin America Version Found)
Polly Pocket 2010 Era Latin America Version Lost
Polly Pocket 2008 Era Commercials French Version Lost
Polly Pocket 2008 Era Commercials US Version Partially Found
Polly Pocket 2008 Era Spanish Version Commercials Lost
Polly Pocket 2006 Era Portugal Version Commercials Lost
Polly Pocket 2014 Era Pollyville Second Commercial (With More Pollyville Playsets) Brazilian Portuguese Version Lost
Polly Pocket Commercials UK Version Lost
Polly Pocket 2008 Era Netherlands Version Lost
Polly Pocket Polly's Bus Commercial (Brazilian Portuguese Version - No Sound Found and French Version Found) (US Version Lost)
Polly Pocket Sylin Flyers Commercial (Founded)
Polly Pocket Jet Set Commercial (Adventure Jet, Have in YouTube, But, The Audio is Different)
Polly Pocket 2010 Era Greek Version Lost
Polly Pocket 2010 Era Russian Version Lost
Polly Pocket 2010 Era Estonian Version Partially Lost
November 30, 2016
The Polly's Bus commercial, are been founded!, but no have sound, retired from commercial break from brazilian Boomerang from Cartoon Network from Maria Júlia Santana da Silva
Link: https://www.youtube.com/watch?v=9TXFm8u8Fd0
December 22, 2016
The Sylin Flyers commercial are been founded!, on Metacafe
Link: https://www.metacafe.com/watch/1662278/polly_pocket_game_stylin_flyers/
February 1, 2017
The Sparklin' Pets Dress Up latin america version commercial is founded in Metacafe in one fake Latin american commercial break and uploaded in YouTube!
Link in Metacafe: https://www.metacafe.com/watch/3799031/tanda_59_de_sct/

Link in YouTube: https://www.youtube.com/watch?v=QwwrkFNKcEk
February 9, 2017
The Pollyworld's House russian version commercial is founded!, since in October 27, 2010 in internet
Ad blocker interference detected!
Wikia is a free-to-use site that makes money from advertising. We have a modified experience for viewers using ad blockers

Wikia is not accessible if you've made further modifications. Remove the custom ad blocker rule(s) and the page will load as expected.