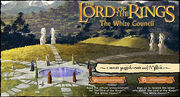 Lord of the Rings: The White Council was an unreleased game in the Lord of the Rings Franchise.
Information
This game was supposed to be released back in 2007 for the PS3, Xbox 360 and Microsoft Windows. During the development, the project was titled Project Gray Company. However, in February 2, 2007, it was announced that the game had been delayed indefinitely due to the management problems. EA instead hired Pandemic Studios to work on The Lord of the Rings: Conquest.
In 2011, Electronic Arts did not release any further information about the game and the game eventually was abandoned and forgotten about to this day.
Sources
http://lotr.wikia.com/wiki/The_Lord_of_the_Rings:_The_White_Council
https://en.wikipedia.org/wiki/The_Lord_of_the_Rings:_The_White_Council
Ad blocker interference detected!
Wikia is a free-to-use site that makes money from advertising. We have a modified experience for viewers using ad blockers

Wikia is not accessible if you've made further modifications. Remove the custom ad blocker rule(s) and the page will load as expected.