Little Einsteins is a children's television series made by the Walt Disney Company and The Baby Einstein Company. The show had a Finnish Dub that aired with the title "Pikku Einsteinit". The dub is lost and no clips of it have surfaced the internet, but a video of the intro from the Australian dub has been uploaded with Finnish subtitles, and the quality is good, though the first second is cut off. Some Little Einsteins DVD's have been released with Finnish Subtitles, but not with the Finnish dub, something like this happened with a lot of He-Man VHS releases in Finland, in which there are some VHS's that have the Finnish dub, while others had the English dub with Finnish subtitles. A promo from a Finnish TV channel featuring Leo and his pet Melody has been uploaded, although Leo didn't speak in it. Also a recorded video from a old website with a trailer of the opening of Playhouse Disney, there are a few parts of the "Pikku Einsteinit" in there, One part has them yell "Yay!" That is the only talking part of the Little Einsteins in the video.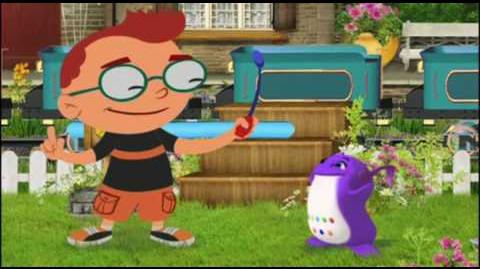 Findings
"Here's a very old Playhouse Disney Finnish Website, I could not get the Pikku Einsteinit thing to work, and it also needs to be translated." - http://www.disney.fi/DisneyChannel/showinfo/programmes/phd/ - Bubic Einstein. ****UPDATE- 12/27/16- WEBSITE NO LONGER ABLE TO RETRIEVE********
More to come!
6/13/2016 UPDATE: Bubic Einstein has found and uploaded the Finnish theme song, but sadly it is left in English.
***NEW UPDATE: 12/27/16:
In action, you may now hear the Pikku Einsteinit gang. The name of it is Pikku Einsteinit 3
***UPDATE: 1/23/17:
The website did not work on Bubic Einsteins because of flash but it might work on others - https://web.archive.org/web/20091208045123/http://www.disney.fi/DisneyChannel/showinfo/programmes/phd/
Ad blocker interference detected!
Wikia is a free-to-use site that makes money from advertising. We have a modified experience for viewers using ad blockers

Wikia is not accessible if you've made further modifications. Remove the custom ad blocker rule(s) and the page will load as expected.