Before Little Charmers premiered, there was a pilot back in 2005. It was about a 7-year old girl named Debbie, an African-American girl named Shelby, and a blonde haired character named Posie. And they cast charms and spells. And in 2013, Debbie and Shelby's names were Hazel and Lavender since Nick Jr. didn't think the names were magical-enough. In 2015, Little Charmers premiered. It's lost.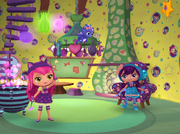 Ad blocker interference detected!
Wikia is a free-to-use site that makes money from advertising. We have a modified experience for viewers using ad blockers

Wikia is not accessible if you've made further modifications. Remove the custom ad blocker rule(s) and the page will load as expected.