The
Lionel Great Railway Adventures
were a series of audiobooks released years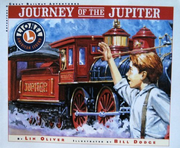 ago and narrated by LeVar Burton. In 2013, five out of six narrations ("The Daylight Limited", "The President Express", "The Torpedo Run", "The Mighty Mogul", "Beezy's Big Boy") had hit YouTube, with the exception being the original narration for
"Journey of the Jupiter"
, still lost until it was found one year later, sometime around Columbus Day.
Ad blocker interference detected!
Wikia is a free-to-use site that makes money from advertising. We have a modified experience for viewers using ad blockers

Wikia is not accessible if you've made further modifications. Remove the custom ad blocker rule(s) and the page will load as expected.