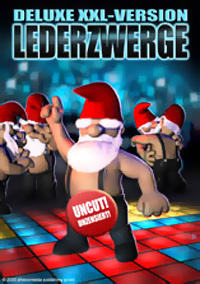 Lederzwerge is rare 2005 German video game created by Phenomedia Publishing gmbh. It's a simple arcade game where the player has to whip naughty garden gnomes dressed in leather daddy attire for points. The characters in the game originally appeared in the Sven series of games, also created by Phenomedia Publishing gmb. Despite what the tittle may suggest, the game does not actually contain any uncensored material as the game is entirely censored using black bars. The game consists of 3 levels and 2 rhythm mini-games which include dancing and singing.
Though not technically lost, the game is nonetheless rare. It can be bought online in a few places such as amazon, though no known working torrents or downloads exist. Information about the game is also scarce, as most sites who list games by Phenomedia Publishing don't have it listed along with a few other games by the company.
Ad blocker interference detected!
Wikia is a free-to-use site that makes money from advertising. We have a modified experience for viewers using ad blockers

Wikia is not accessible if you've made further modifications. Remove the custom ad blocker rule(s) and the page will load as expected.