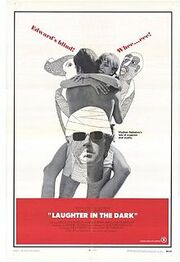 Laughter In The Dark is a film adaptation of the Vladimir Nabokov novel of the same name. Originally released in September of 1969, the plot was exactly the same as the book: a middle-aged man forms a relationship with a much younger woman, obviously causing drama among the people around him.
The film has never been available on home video, reportedly due to copyright issues. Its last theatrical screening was at a 1994 retrospective of Richardson's works in New York. Right now, it is still currently unknown if the film will ever be rereleased at all.
Cast
Nicol Williamson as Sir Edward Moore
Jean-Claude Drouot as Herve Tourace
Siân Phillips as Lady Elizabeth Moore
Sebastian Breaks as Brian
Kate O'Toole as Amelia Moore
Sheila Burrell as Miss Porly
Willoughby Goddard as Colonel Basil
Philippa Urquhart as Philippa
References
Ad blocker interference detected!
Wikia is a free-to-use site that makes money from advertising. We have a modified experience for viewers using ad blockers

Wikia is not accessible if you've made further modifications. Remove the custom ad blocker rule(s) and the page will load as expected.