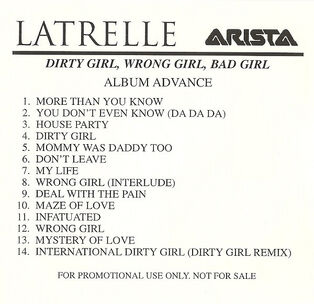 Dirty Girl, Wrong Girl, Bad Girl was supposed to be R&B singer Latrelle's debut album scheduled for release on October 2, 2001 by Arista Records, but due to unknown reasons (possibly due to the album's two singles "House Party" and "Dirty Girl" failing to chart at all) and being pushed back numerous times, the album's official release was cancelled, leading it to be shelved.
Despite that, promotional copies of the album appear to be available (according to Discogs.com).
Tracklisting (according to Discogs.com)
More Than You Know
House Party
Dirty Girl
Mommy Was Daddy Too
Don't Leave
My Life
Wrong Girl (Interlude)
Deal With the Pain
Maze of Love
Infatuated
Wrong Girl
Mystery of Love
International Dirty Girl (Dirty Girl Remix)
Ad blocker interference detected!
Wikia is a free-to-use site that makes money from advertising. We have a modified experience for viewers using ad blockers

Wikia is not accessible if you've made further modifications. Remove the custom ad blocker rule(s) and the page will load as expected.