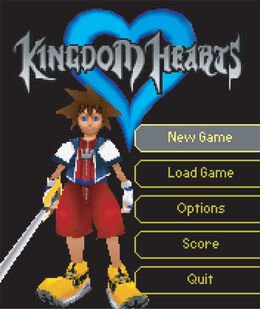 Kingdom Hearts V Cast
was an unoffical entry in the Kingdom Hearts game series made exclusively for the Verizon Wireless V Cast cellphone network. It was released in Japan on October 1, 2004 and in the United States on February 4, 2005. It was made by Disney Interactive and Superscape without Square-Enix thus making it non-canon in relation of the series. The V Cast network was disbanded in 2012 which caused the game to be unable to download then on and thus caused it to be lost. On July 13th 2016, a Youtuber named KHCentral states that a 4Chan user named Wedge uploaded the files online on Mega to download, however there is no emulator at the moment.
Not much infomation is known about it except that:
It took place during the first Kingdom Hearts as a dream sequence
Worlds included: Swordman's Island, Wonderland, Agrabah, and Maleficent's Fortress.
Unqiue characters and bosses included: Swordman Parrot, the Caterpillar, and the cobra form of Jafar.
Ad blocker interference detected!
Wikia is a free-to-use site that makes money from advertising. We have a modified experience for viewers using ad blockers

Wikia is not accessible if you've made further modifications. Remove the custom ad blocker rule(s) and the page will load as expected.