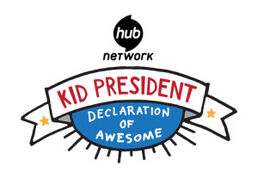 In 2014, the Hub decided to give popular YouTuber "Kid President" a series.
And eventually, Kid President: Declaration of Awesome was made!
The series was sadly cancelled when the Hub became Discovery Family.
Only a clip of the first episode has been surfaced onto the internet.
The series has been found! here is the TV Guide site where it gives you links to watch all episodes (Amazon/iTunes). - Crunchyscarf /LittleJackk
Ad blocker interference detected!
Wikia is a free-to-use site that makes money from advertising. We have a modified experience for viewers using ad blockers

Wikia is not accessible if you've made further modifications. Remove the custom ad blocker rule(s) and the page will load as expected.