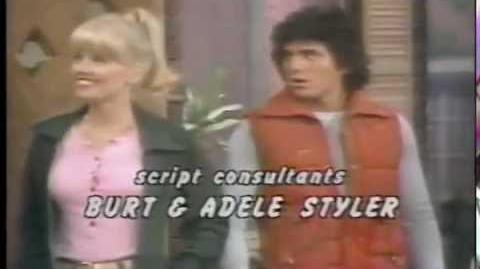 Joe's World is a 1979 NBC sitcom starring Ramon Bieri as Joe Wabash, a married, hard-working house painter with five kids (one of them, Steve, is played by a post-Brady Bunch Christopher Knight). The series debuted with back-to-back episodes on December 28, 1979 (making it the last show to premiere in the 1970s), but only three episodes aired before it was cancelled the following week (the remaining eight were eventually burned off over the summer). No video footage of the show has ever surfaced until May 2012, when the opening credits were posted in a "TV Show Openings 1980" video by Bob Parker. Then in 2014, Sean Mc uploaded a promo (also advertising BJ and the Bear and the short-lived Sanford and Son revival Sanford). On November 30, 2016, Gilmore Box posted not only an individual copy of the opening, but also the closing credits, both taken from what appeared to be a recording of the December 28 premiere.
Ad blocker interference detected!
Wikia is a free-to-use site that makes money from advertising. We have a modified experience for viewers using ad blockers

Wikia is not accessible if you've made further modifications. Remove the custom ad blocker rule(s) and the page will load as expected.