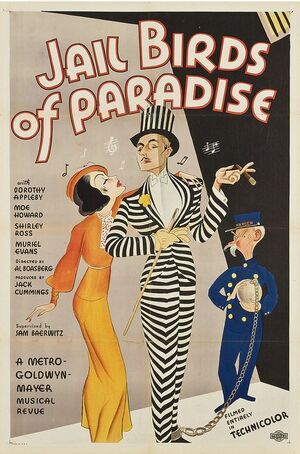 Jail Birds of Paradise
, known as the working titles
Stars and Stripes
,
Reformers
, and
Reformania
, was a lost 1934 short film written and directed by Al Boasberg, and starring The Three Stooges.
Jail Birds of Paradise
was the ninth film of 'Ted Healy and His Stooges' during their time at MGM. The plot involved that during the warden's three-month absence, his daughter Miss Deering (Dorothy Appleby) has turned Paradise Prison into a "paradise," a luxury hotel with all the amenities, and the guards do all the work. As Miss Deering and her secretary tour the prison, there are a series of sight gags involving various prisoners.
Among them, registering at Paradise's front desk, Joe Pantz (Moe Howard), an axe murderer who has transferred from Leavenworth. That night there is a show in the Prison Auditorium with dinner and music. Moe enters with Jerry "Curly" Howard, who is wearing a toupee, and the two work a hair tonic scheme among the other prisoners; this scene would later reworked for Moe Howard, Larry Fine and Joe DeRita in the 1961 film, Snow White and the Three Stooges. The evening end with gunshots and a vase-throwing melee among the prisoners.
The short only featured the Howard Brothers, Moe Howard and Curly Howard. The film is now considered a lost film with no studio or collector prints, or negatives is known to exist.
The Three Stooges' other film Hello Pop! was also a lost film but a 35mm nitrate print was discovered in Australia in January 2013.
Only 2 Screenshots of the short have surfaced
Ad blocker interference detected!
Wikia is a free-to-use site that makes money from advertising. We have a modified experience for viewers using ad blockers

Wikia is not accessible if you've made further modifications. Remove the custom ad blocker rule(s) and the page will load as expected.