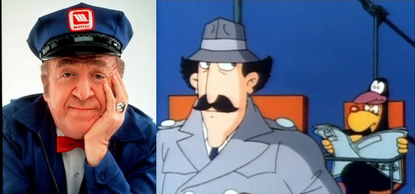 In 1982, the DIC company began producing the series Inspector Gadget, about a bungling bionic detective battling the criminal agency, MAD, and their dastardly partially unseen leader, Dr. Claw, with the actual detective work being done by his young niece Penny and his dog, Brain.
The original pilot, "Gadget in Winterland" (later retitled "Olympic Games") was about Gadget being assigned to prevent MAD from sabotaging the Olympic Games in the town of Winterland. Producers originally cast actor Jesse White as Gadget, but afterwards re-recorded his lines with voice actor and announcer Gary Owens playing the part. Ultimately, Owens too was rejected, and finally, Get Smart star Don Adams was cast in the role. While Adams' recording of the role is the one commonly heard in the episode, the Australian DVD release contained Gary Owens' portrayal of the character in the pilot. Although the original end credits sequence on both of the DVD releases for this episode list White as Gadget's voice, the audio of him playing the part has not surfaced to this day.
Ad blocker interference detected!
Wikia is a free-to-use site that makes money from advertising. We have a modified experience for viewers using ad blockers

Wikia is not accessible if you've made further modifications. Remove the custom ad blocker rule(s) and the page will load as expected.