THIS WILL BE UPDATED, WHEN I WILL FIND SOME MORE INFO.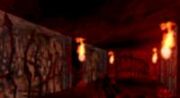 Insomeria was mentioned sometimes in 1999 issues of gaming magazine in Denmark, complete with a screenshots. It was intended to be a first-person horror, with gory and dark content, propably on Quake engine. The game was propably canceled due to its explicit content. The domain Insomeria.com was registered back in 1998, having few screenshots, and plot summary. It was however shut down in 2012. The plot was about a serial killer lost in Paris Catacombs, and due to his weird mental sickness called Insomeria, he is haunted by his victims and nightmares, which come alive as monsters.
Ad blocker interference detected!
Wikia is a free-to-use site that makes money from advertising. We have a modified experience for viewers using ad blockers

Wikia is not accessible if you've made further modifications. Remove the custom ad blocker rule(s) and the page will load as expected.