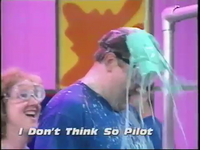 "I Don't Think So", was a early 1990s, children's/family game show by Nickelodeon filmed and produced to air, that for reasons unknown was never aired.
Like many other Nickelodeon game shows, it was filmed live at Universal Studios in Orlando, Florida. It was produced by Scott Fellows.
Due to the fact the series was never picked up by the network, very little information is known about the show, other than it was a family orientated game show identical to that of Family Double Dare in which contestants were tentatively slimed.
From information that has been seen, it appears as though the show was some type of physical challenge game in which two teams of families, a blue and a red, would compete against each other. In the first round, teams are asked pop culture questions for cash/prizes. In the second and possibly final round, contestants would have to complete challenges which might range from fairly easily, to nearly impossible in order to win cash/prizes. There would be three challenges in which teams would win cash/prizes from. Teams would go back in forth saying "I think so", in which five seconds would be deducted off the timer, until one team said, "I don't think so"
The team that said, "I don't think so", would simply stand on the sidelines, while they watch the other team attempt the challenge.
At the end of each challenge, the team that won either by successfully completing the challenge, or by successfully daring the other team, won a grand prize like a vacation or entertainment center etc. The team that loses by not completing the challenge, or if the team they dared completed the challenge, would be slimed.
A timer that is seen on a screencap that the show used, would be the same one that would be used in later seasons of a similar show, Nickelodeon Guts.
How clips of the show eventually made it's way into the internet;A former staff member at Universal Studios Florida, made a compilation video of various Nickelodeon media primarily from the 80s and 90s. In this compilation, shots of contestants on "I Don't Think So", were included. This was later uploaded onto YouTube.
Supposedly, an episode script was sold on Ebay, in 2014.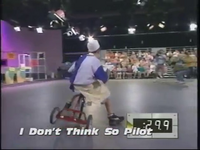 Ad blocker interference detected!
Wikia is a free-to-use site that makes money from advertising. We have a modified experience for viewers using ad blockers

Wikia is not accessible if you've made further modifications. Remove the custom ad blocker rule(s) and the page will load as expected.