Released in 1975, Hu-Man was a sci-fi flick about an actor who is placed in different dangerous situations, as well as different periods of time, where viewers decide what his fate will be. The film has been described as a cross between The Running Man and Slaughterhouse Five, with an original score reportedly by psych-rock band Gong.
No real explanation has ever been given for its lack of availability, however, it's very possible a print exists, as clips from the film were shown on a 1998 episode of the UK series Scene by Scene that profiled Stamp.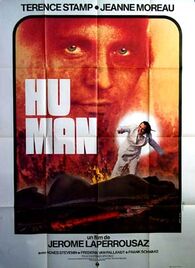 Ad blocker interference detected!
Wikia is a free-to-use site that makes money from advertising. We have a modified experience for viewers using ad blockers

Wikia is not accessible if you've made further modifications. Remove the custom ad blocker rule(s) and the page will load as expected.