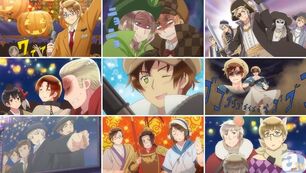 Hetalia: Halloween episode is a hard to find extra episode from the popular anime, Hetalia: The World Twinkle. It was released on DVD on February 24, 2016. But only in Japan. The full episode can not be found online. However a few screenshots and a short 15 seconds clip of the episode has resurfaced on the internet. On February 8th, 2016, there was a livestream of the episode that was shown only once on the internet. However, the full episode was on youtube, but was taken down shortly after. The livestream has not been mirrored anywhere else on the internet. Other then that, the episode can't be watched online. However, FUNmation will be releasing the OVA dubbed in DVD and Blu-Ray
Ad blocker interference detected!
Wikia is a free-to-use site that makes money from advertising. We have a modified experience for viewers using ad blockers

Wikia is not accessible if you've made further modifications. Remove the custom ad blocker rule(s) and the page will load as expected.