The Harry Potter Films (2001-2011) had a large amount of footage end up on the cutting room floor; unfortunately, only a fraction of it has been released to the public.
The film with the most glaring case is 2007's Order Of The Phoenix, which originally had a 3-hour cut but was cropped down to 130 minutes, and only roughly ten minutes of deleted footage can be found on the DVD.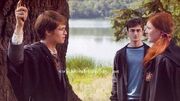 A list of known deleted scenes is featured here.
In addition, a number of viewers, upon the DVD release of the fifth film, complained online about scenes from the theatrical screenings being missing, all claiming several scenes from the book were shown in theaters, implying that an uncut version may have accidentally been screened.
Ad blocker interference detected!
Wikia is a free-to-use site that makes money from advertising. We have a modified experience for viewers using ad blockers

Wikia is not accessible if you've made further modifications. Remove the custom ad blocker rule(s) and the page will load as expected.