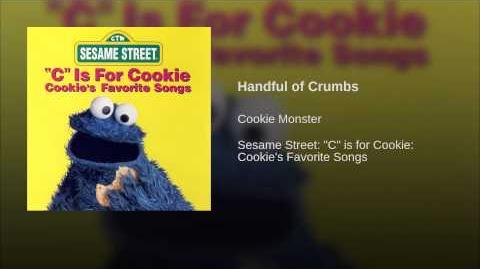 Handful of Crumbs was a Sesame Street song that first aired sometime during the show's fourteenth season (1982-83). It features Cookie Monster singing how he is sad that his cookie broke into crumbs, but at the song's conclusion, he has an idea: eat the crumbs! He performs the song backed by a country band of Sesame Street monsters, including one who would become Elmo (at the time performed by Jerry Nelson).
There are no known copies or screenshots of this short available online. But the remade audio was released on at least three official Sesame Street albums: Put Down the Duckie, C is for Cookie: Cookie's Favorite Songs, and Elmo's Lowdown Hoedown. The original clip was rerun multiple times during the 1980s, but for some reason it hasn't made it to YouTube.
Ad blocker interference detected!
Wikia is a free-to-use site that makes money from advertising. We have a modified experience for viewers using ad blockers

Wikia is not accessible if you've made further modifications. Remove the custom ad blocker rule(s) and the page will load as expected.