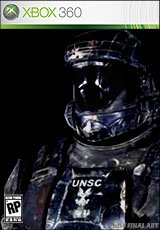 Halo: Chronicles was a cancelled video game released for the Xbox 360 and an another installment into the Halo Series.
Information
Halo: Chronicles was supposed to play as an episodic interactive movie, this means clips would play based on the players actions in the game. The game was announced on September 27, 2006 at Microsoft's official Xbox show, X06. The game was developed by WingNut Interactive. Sadly on June 24, 2009, Peter Jackson stated in an interview that this game was cancelled. It's developer WingNut Interactive has not been active since. The game's cover has been revealed though it appears to be unfinished.
Sources.
http://www.halopedia.org/Halo:_Chronicles
Ad blocker interference detected!
Wikia is a free-to-use site that makes money from advertising. We have a modified experience for viewers using ad blockers

Wikia is not accessible if you've made further modifications. Remove the custom ad blocker rule(s) and the page will load as expected.