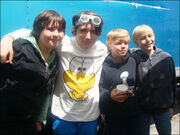 Gutsy Frog was a 2013 TV movie, a live action American remake of the anime series Dokonjō Gaeru. Several sources, including IMDb, indicate Frankie Jonas and Mischa Barton were to play characters in the movie.
It's unknown if it aired, only saw a release in other regions, or was quietly cancelled. The only photographic proof that it was in production is a single photo from the set.
Ad blocker interference detected!
Wikia is a free-to-use site that makes money from advertising. We have a modified experience for viewers using ad blockers

Wikia is not accessible if you've made further modifications. Remove the custom ad blocker rule(s) and the page will load as expected.