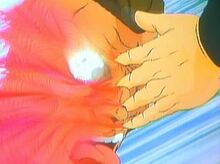 When the Fist of the North Star anime was first released in Japan in 1986, all the gore and death scenes were completely clear. However, when Toei released the movie on home video, all the gore scenes were censored with a blurring effect, and the scene where Galf crushes a man's head was removed entirely.
From that point, every VHS and DVD release worldwide had blur effects over the gore and the head-crushing scene was cut. There were the usual "destroyed in a warehouse fire" rumors that always arise around lost animation, but Toei has actually never made an official statement on the issue.
Available Uncensored Footage
On a side note, some Italian versions of the film were less censored than any other version, even the Japanese ones. For example:
The scene where Shin gives Ken his seven scars doesn't feature the blue tint, the colors have been left alone.
The scene where Galf crushes a man's head is actually shown.
When Zeed's punks explode when Ken hits them, there is no blurring effect for their deaths.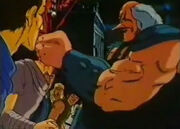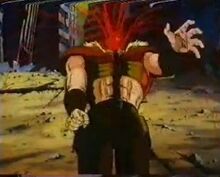 Ad blocker interference detected!
Wikia is a free-to-use site that makes money from advertising. We have a modified experience for viewers using ad blockers

Wikia is not accessible if you've made further modifications. Remove the custom ad blocker rule(s) and the page will load as expected.