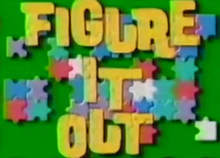 Figure it Out
is a Nickelodeon game show that originally ran from 1997-2000 and was hosted by Summer Sanders. It returned from 2012-2013 with Jeff Sutphen as host. What many fans of this show don't know is that in 1996, a
pilot
was made and it was entirely different from the end result. Sadly, it has faded into obscurity and it was never aired.
For the pilot, instead of Summer Sanders, Kevin Seal was chosen to be the host, and instead of the '90s Nickelodeon-ish themed set that was used for the remainder of the series, it was multi-colored and filled with puzzle pieces. The panelists were Darris Love, Irene Ng, Kevin Kopelow and Danny Tamberelli. It's currently unknown if there were any differences in gameplay, why Kevin didn't host the rest of the series, and why the set changed drastically.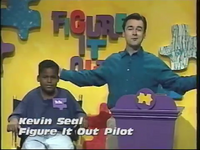 The only known footage of this pilot that has surfaced is in a 5-minute compilation video created by a former crew member of Nickelodeon Studios for its 10-year anniversary (uploaded by avavideos1), as with a lot of other Nickelodeon Studios pilots.