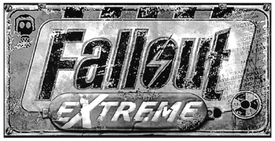 Fallout Extreme was a game under development by 14 Degrees East and Interplay during the early 2000's for the PlayStation 2 and Xbox. The game was still in prototype stages when it was canceled by 14 Degrees East, presumably for them to focus development on the PC-exclusive Fallout Tactics.
The game was never officially announced, and its existence was virtually unknown until detailed information about it was released in January 2010 [1].
The game would have used a squad based system similar to the one eventually used in Tactics. 
Refrences
↑ Fallout Extreme article on Nukapedia Retrieved 19 Dec '13
Ad blocker interference detected!
Wikia is a free-to-use site that makes money from advertising. We have a modified experience for viewers using ad blockers

Wikia is not accessible if you've made further modifications. Remove the custom ad blocker rule(s) and the page will load as expected.