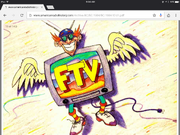 Back in the 1980s, MCA TV and Chris Bearde created FTV, a syndicated music show. There is a print ad. No recordings exist, like Wolf Rock TV.
UPDATE OCTOBER 15, 2016: VamposMixel1111 found the first footage of FTV! This is the first footage we been able to find! Though, it's currently unlisted as of now.
https://www.youtube.com/watch?v=HpIfSMocsHU
https://www.youtube.com/watch?v=adUT-POqs8g
Ad blocker interference detected!
Wikia is a free-to-use site that makes money from advertising. We have a modified experience for viewers using ad blockers

Wikia is not accessible if you've made further modifications. Remove the custom ad blocker rule(s) and the page will load as expected.