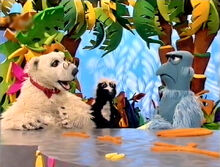 Today's show is about the bald eagle, with our guest being the Muppets' very own Sam the Eagle. However, Sam does not like how bald eagles live. Later, Armstrong gets to be a featured guest, considering the fact that he wasn't a guest. When he was asked to sing a song, he says "no," because he doesn't like being upstaged by eagles. So, Sam gets to sing, because he doesn't have enough money to get his car out of the parking garage. So, Stinky and Jake will take care of the problem while Sam gets to sing with the background animals. While Sam is singing his song, Armstrong comes in stating that eagles have been upstaging him and Sam states that he will mention how good chicken hawks are in his song, which he does.
Segments
Opening
That's Amazing
Guest: Sam the Eagle
Baby Talk
Song
Rodent Reporter: Rhonda asks a grasshopper mouse a question. The mouse gets pounced on by a black-and-white cat (Socks) for the trapdoor.
Yves St. La Roach
Guest: Armstrong the Chicken Hawk
Song: Sam (ft. Armstrong) sings "I'm an Eagle"
Animal Awards
Story
Habitat Time
Closing
Cast
Dave Goelz as Stinky
Steve Whitmire as Jake
Bill Barretta as Armstrong and Dullard
Louise Gold as Bunnie and Rhonda
John Eccleston as Yves St. La Roach
Katherine Smee as a grasshopper mouse
Trivia
This is a crossover episode with Sam the Eagle from "The Muppets" franchise appearing. In fact, he is the only main character from "The Muppets" to appear on this show. Nobody on the show (except Jake) is aware of what a big star he is.
When Sam is being asked to sing, he only knows "Tit Willow." This is a reference to the UK spot from episode 120 of "The Muppet Show."
The grasshopper mouse Rhonda interviews is a recycled version of Galahad the Grasshopper Mouse. Rhonda's other segment is cut, due to syndication.
Ad blocker interference detected!
Wikia is a free-to-use site that makes money from advertising. We have a modified experience for viewers using ad blockers

Wikia is not accessible if you've made further modifications. Remove the custom ad blocker rule(s) and the page will load as expected.