Stinky wants to join a horns-and-antlers club, so he can get a hat like everybody else has.
Segments
Opening
That's Amazing
Guest: D'kembe the Gemsbok, from Africa
Baby Talk
Song
Tizzy's Quiz
Yves St. La Roach
Guest: Ralph the Moose, from North America and Europe
Song
Animal Awards
Story
Habitat Time
Tizzy's Quiz
Closing
Cast
Dave Goelz as Stinky
Steve Whitmire as Jake
Bill Barretta as Armstrong and D'kembe the Gemsbok
Louise Gold as Bunnie and Tizzy
John Eccleston as Yves St. La Roach and Ralph the Moose
Gallery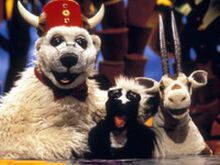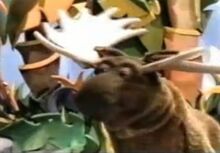 Ad blocker interference detected!
Wikia is a free-to-use site that makes money from advertising. We have a modified experience for viewers using ad blockers

Wikia is not accessible if you've made further modifications. Remove the custom ad blocker rule(s) and the page will load as expected.