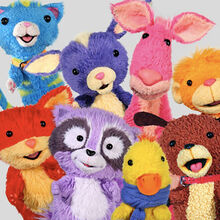 "Einstein Pals" was a short series teased by Disney and The Baby Einstein Company in 2007 but has since been abandoned. Only some trailers and coloring sheets have been found and archived on the web.archive website. Kids ii (the new owner of The Baby Einstein Company) said in their F&Q that they have no plans for releasing the Einstein Pals series of videos. The Files of the making or the episodes itself have unknown availabilities. The reason for termination is unknown. The possible reason for termination is the fact about the BE DVD refund scandal in 2009.
Einstein Pals trailers can be seen on YouTube or on Baby Einstein and Little Einstein DVD Releases from 2007-2008.
EDIT 1:
A Youtube channel named The Blue Van Goat uploaded a rare Einstein Pals trailer from the old Baby Einstein web site (when Baby Einstein was owned by Disney) announcing that the show would premiere in 2009.