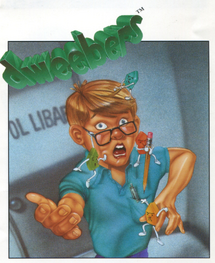 Dweebers is a cancelled Game Boy game developed by the company Vic Tokai. It was set to be released sometime in 1989-1990.
Sightings and information
One mention of Dweebers was in the Vic Tokai product line 1989-1990 brochure [1] and another in a book called Video Game Quest: The Complete Guide to Home Video game Systems published in 1990[2][3]
The games description from both sources is: "So what if you've got a Styrofoam face? Hey, it's a dweeb world out there! Dweebers knows that. That's why we've given your hero a steam iron face, grasshopper legs, and a little booties that look like Volkswagons. Think that's outrageous? Wait till you meet up with your fish larvae enemies! Come on. What are you waiting for? Be a dweeb!"
Gathers
One theory by a blogger named Chris Bieniek is that Dweebs might be a game called Gathers, another cancelled game by Vic Tokai. He mentions how the creatures in the game look like the ones from Dweebers.[4]
References
Ad blocker interference detected!
Wikia is a free-to-use site that makes money from advertising. We have a modified experience for viewers using ad blockers

Wikia is not accessible if you've made further modifications. Remove the custom ad blocker rule(s) and the page will load as expected.