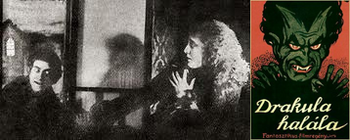 Dracula's Death (aka The Death of Drakula, aka Drakula halála) was a 1921 silent Hungarian horror film written and directed by Karoly Lajithay. It told the story of a young woman who begins to have frightening visions after visiting an insane asylum where one of the inmates claims to be Dracula. She then has trouble determining whether the visions were real or merely nightmares. The film seems to have been reissued in 1923, although it's believed that this version is lost, as well. The man who starred as Dracula in this film was named Paul Askonas, better known as Erik Vanko.
This film has been lost for many years and very little aside from the cast and plot[1] are known, and so far, only the poster and a few photographs have surfaced.
References
↑ IMDb page for Dracula's Death. Retrieved 20 Mar '13.
Ad blocker interference detected!
Wikia is a free-to-use site that makes money from advertising. We have a modified experience for viewers using ad blockers

Wikia is not accessible if you've made further modifications. Remove the custom ad blocker rule(s) and the page will load as expected.