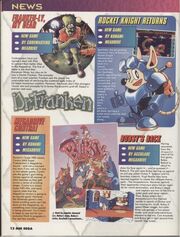 Dr.Franken was a platformer originally released for the SNES in 1993. A Game Boy port of the game was released in 1992. There was also a Sega Genesis version which went unreleased.
Information.
A Sega Genesis version was supposed to be released probably in 1994 and was going to be devoloped by Elite Software. However the game went unreleased and later in 1997 a sequel was released on the Game Boy. To this day the only source confirming its existence is a small article in a UK magazine. It may or may not have been the same as the SNES version. No screenshots exist.
Ad blocker interference detected!
Wikia is a free-to-use site that makes money from advertising. We have a modified experience for viewers using ad blockers

Wikia is not accessible if you've made further modifications. Remove the custom ad blocker rule(s) and the page will load as expected.