History
Disney's Teacher's Pet was an American animated series that aired on ABC's One Saturday Morning block from September 9, 2000 to February 9, 2002 (The first 1/3 of the Second Season aired on ABC) and the remaining Season Two episodes had aired on Toon Disney from January 11, 2002 to May 10, 2002.
After a bit of delay with dates ranging from September 2003 to Feburary 2004, a theatrical movie finale was finally released on January 16th, 2004 to box-office failure due to barely being promoted outside of the main Disney stations. Despite this, the movie has been critically acclaimed.
While the show was popular in it's hey-day, the show went into obscurity since Toon Disney stopped running reruns in June 2006, along with many other Disney shows like Pepper Ann or Teamo Supremo. Besides the first episode being released on the Movie DVD, no other episodes were ever released in any other format.
In Late 2008, Fifteen 1/2 Episodes were uploaded from VHS recordings to YouTube by the YouTube account DrawbridgeTV. Between January and June 2013, Seventeen additional Episodes (Thirty One) were uploaded from VHS recordings to YouTube under another account (Mary Madeline) and remained on YouTube until Disney took them all down in early July 2013 due to copyright. Since September 2013, many of them (despite being in low quality at the time) had been uploaded to a special Facebook page.
In January 2014, Michael Gormley contacted the Teacher's Pet Facebook page and sent over better quality version episodes that he originally had DrawbridgeTV upload to his YouTube page. In addition to this, he also sent over three more episodes (Up to Thirty Four), although said episodes are in rather poor quality. A Dailymotion page has also been hosting episodes since March 2014, which also includes Russian dubs.
Although the episode was uploaded to Google Drive (By Lewis Armon) on March 22nd, 2014 [1], the episode "Double Dog Dare" (Thirty Five of Thirty Nine), wasn't uploaded onto Facebook and Dailymotion until July 28th, 2014 due to trying to find the remaining episodes to upload all at once from someone who claimed to have the remaining missing episodes (Which didn't end happening because it turned out to be a hoax).
Updates
UPDATE 1 - January 1st, 2015: Twenty Nine full episodes were recovered from many of the original uploaders. Eleven episodes have been found in Russian, including a few that have been missing in English (Like "Attack Of The 50 Inch Girl" and "The Blight Before Christmas"), and one in Greek ("Never Take Candy From A Kindergartner").
UPDATE 2 - February 3rd, 2015:  As of early February 2015, missing episodes that were uploaded to YouTube before being taken down by Disney (Example: Party Animal, What Does Sweat Have To Do With It, No Substitutions, Please, etc) have been found and were uploaded within the month, bringing the number of episodes up to Thirty Five [2]. Other low quality episodes (Strickler's Pet, Scott's Honor, etc) have been replaced with their original format (Low: 320x240; Original: 640x480 or 720x480).
UPDATE 3 - March 23rd, 2015:  Recently it's been discovered that the Second Season of the show is now airing it's first run on the Philippines channel "TV5". It ended it's run on May 1st, came back for reruns from May 13th to September 21st.
UPDATE 4 - July 2nd, 2015: The episode "To Bee or Not To Bee" has finally been recorded and rendered online. Thirty Six of Thirty Nine episodes have been found as of July 2015 [3].
UPDATE 5 - September 21st, 2015: Although episodes have stopped airing on TV5 as of September 21st, 2015, the missing episode "The Flipper" has been recorded and has been uploaded to Dailymotion, with the missing 20 seconds reinserted in (Originally uploaded in August before being reuploaded on September 15th, 2015). Every episode (In different languages) are now online for your viewing pleasure :) [4].
Available Episodes (As of March 2016): Up to Thirty Six English episodes have been uploaded to both Facebook and Dailymotion, but dubbed episodes have been specifically uploaded to Dailymotion. As of March 28, 2016, there is One episode in Greek, Twelve episodes in Russian (Including the entire movie in as well), and Twenty One episodes in Filipino.
UPDATE 6 - April 3rd, 2016:
If you check in the comments, MrLeap happens to have "Attack of the 50 Inch Girl" in English on VHS and recently uploaded it to Google Drive. This includes the full episode with commercials that aired with the rerun
[5]
. The video was posted on Dailymotion and Facebook later the same day; On a side note, he's gonna check some of his other tapes as he has some better quality versions of episodes that we already have. He also might have "The Blight Before Christmas" and "The Flipper" too.
As of April 3rd, 2016, Thirty Seven of Thirty Nine episodes have been found. One issue with some episodes is that there are brief scenes (usually after the episode comes back from commercial break) that are missing due to how the episode was recorded (Scott's Honor, Costume Pity Party, Party Animal etc). This can even result in the title card or even credits being omitted from the video (Pet Project, A Few Good Boys, Never Take Candy From A Kindergartner, etc). A few episodes (A Breed Apart, Double Dog Dare) happen to have issues with keeping the tape in place, which results in the video being all jittery.
UPDATE 7 - August 7th, 2016:
From July 8th [6] to August 31st [7], Spanish reruns had aired on the Guatemala station "Trecevisión" (Canal 13). Recording episodes weren't possible though due to the streaming apparently being taken down earlier this year; one recording was recorded the previous year by another person (albeit in low quality) and uploaded onto Dailymotion in August.
Available Episodes (As of November 2016):
Up to Thirty Seven English episodes have been uploaded to both Facebook and Dailymotion. Three older episodes have new recordings uploaded with better quality and has their Intro and Ending credits as well [Pet Project [8], No Substitutions, Please [9], A Breed Apart [10]].
UPDATE 8 - December 28th, 2016:
Starting on either January 5th or 12th, the Malaysia station TV3 will air one episode of Teacher's Pet every Thursday at 9:30 AM. It's unknown at the moment, but said episodes might air in English as opposed to a foreign dub. Here's to hoping they'll air The Blight Before Christmas and The Flipper in English so the series can finally be completed. Check out the link here.
UPDATE 9 - January 5th, 2017: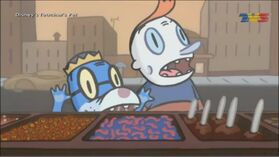 As it turns out, the series started airing on January 5th, and it is indeed in English. TV3 is only airing the Second Season, but it also airs in it's original widescreen version (Although it's mushed to fit the 4:3 Format TV3 airs their programs), but is fixed before being uploaded online. The first episode is currently on
Facebook
and the following recordings will be on there and uploaded to
MEGA
; along with other recordings of the show.
UPDATE 10 - February 3rd, 2017:
TV3 seems to air the episodes out of order (As shown below at the bottom of the page), and it's unknown if they'll air the holiday themed episodes as well (The Tale of the Telltale Taffy; Taint's Valentine's Day; The Turkey That Came To Dinner; The Blight Before Christmas). The series is shown to be airing into May and June.    
As shown on the March schedule, the show didn't air on the 23rd since TV3 aired Barbie movies for it's Spring Break block [11].  
As shown on the June schedule, the show didn't air on the 29th since TV3 aired special programming blocks to celebrate the Malaysia holiday "Raya" [12].  
UPDATE 11 - April 26th, 2017:
TV3 aired the Valentine's episode "Taint Valentine's Day" recently, and given that the show is going to air into May and June, it most likely means that the other holiday episodes will air at some point within the next two months.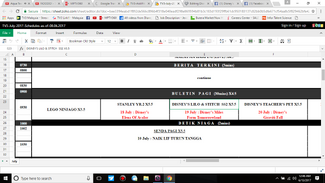 UPDATE 12 - June 8th, 2017:
"The Flipper" has finally aired on TV3 and now the English version is online; although for some reason, the airing omits the end credits (Most likely due to time because of TV3 airing the "Kalamullah" program right before Teacher's Pet aired, limiting it's time and commercials).
UPDATE 13 - June 13th, 2017:
The series will run into early July, but end after the 13th and be replaced with "Gravity Falls" [13]. The shows last four episodes will run until mid-July, which will most likely mean that "The Blight Before Christmas" will air on June 15th. Lets hope for the best.
UPDATE 14 - June 15th, 2017:
As expected, "The Blight Before Christmas" has aired and been uploaded online; thus finally completing the entire series
TV3 Malaysia Airings/Errors
The information for the TV3 airings have been moved to a google document for improved performance
Dubbed Episodes
| | |
| --- | --- |
| Episode Title | Language |
| 101 - Muttamorphosis | Russian |
| 201 - Never Take Candy From A Kindergartner | Greek/Tagalog |
| 203 - Bad Fur Day | Russian |
| 204 - The Tale of the Telltale Taffy | Russian |
| 205 - Don't Count Your Chickies Before They Hatch | Tagalog |
| 206 - Strickler's Pet/Fresh 'n' Frozey Chocolaccino | Tagalog |
| 207 - The Grass Seed is Always Greener... | Tagalog |
| 208 - No Substitutions, Please | Tagalog |
| 209 - Don't It Make My Brown Eyes Green | Tagalog |
| 210 - Mr. Jolly: Man Or Mouser?/Party Animal | Tagalog |
| 211 - What's Sweat Got to Do with It? | Russian |
| 212 - Dogfight | Tagalog |
| 213 - Taint Valentine's Day | Russian |
| 214 - Science Not Fair | Tagalog |
| 215 - To Bee or Not To Bee | Russian/Tagalog |
| 216 - One Dog's Junk | Russian/Tagalog |
| 217a - Team Scott | Tagalog* |
| 217b - Take Me Out of the Ball Game | Tagalog |
| 218 - Inspector Leadready II | Tagalog |
| 219 - The Turkey That Came To Dinner | Russian |
| 220 - Double Dog Dare | Russian |
| 221 - Attack of the 50 Inch Girl | Russian/Tagalog |
| 222 - The Flipper | Tagalog |
| 223 - The Blight Before Christmas | Russian/Spanish |
| 225 - The Nose Knows/Don't Bite the Hound That Feeds You | Tagalog** |
| 226 - A Breed Apart | Russian***/Tagalog |
| Teacher's Pet: The Movie | Russian, Persian, Polish, and Arabic |
*Missing the last 30 seconds
**Some small parts are missing in the latter segment
***Missing the first minute or so
Missing Footage (Season One)
Episode Title
Additional Information
106 - Let Sleeping-Over Dogs Lie/

Costume Pity Party

Missing Intro/Credits

Also, the episode suffers of low quality and is missing

a few seconds due to poor recording
References