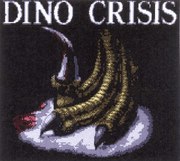 Dino Crisis was a game released for the PlayStation One In 1999. Many fans are unaware Of The Game Boy Color Port, It Is Unknown When this port Was released But It Is likely released in 2000. 
Information
3 Screenshots from The Game can be found on Unseen64.net. This Lost Game Is Very Similar To The Once Lost Resident Evil Game Boy Color Port. To This Day No Copies Or ROM's Of The Game's Can Be Found.
Trivia
M4.Ltd Were Part In devoloping the port.
Unseen64 states " The Port Was used as a bar to devolop Resident Evil: Gaiden".
More Information Can Be Found On Unseen64.net
Ad blocker interference detected!
Wikia is a free-to-use site that makes money from advertising. We have a modified experience for viewers using ad blockers

Wikia is not accessible if you've made further modifications. Remove the custom ad blocker rule(s) and the page will load as expected.